Automate data deletion based on a pre-defined time schedule to comply with your organization's personal data policies
Your local or organizational regulations might require you to ensure that any Personally Identifiable Information (PII) that you collect not be hold for more than a defined period of time. In order to assist you in abiding by these regulations you may use the Automated Data Deletion feature available in your Segmanta Survey Builder.
To set up automated data deletion follow the steps below:
1. Navigate to the Survey Builder for the survey you would like to automate the deletion of data for
2. Navigate to Configure > Data Privacy
3. Toggle on Automate Data Deletion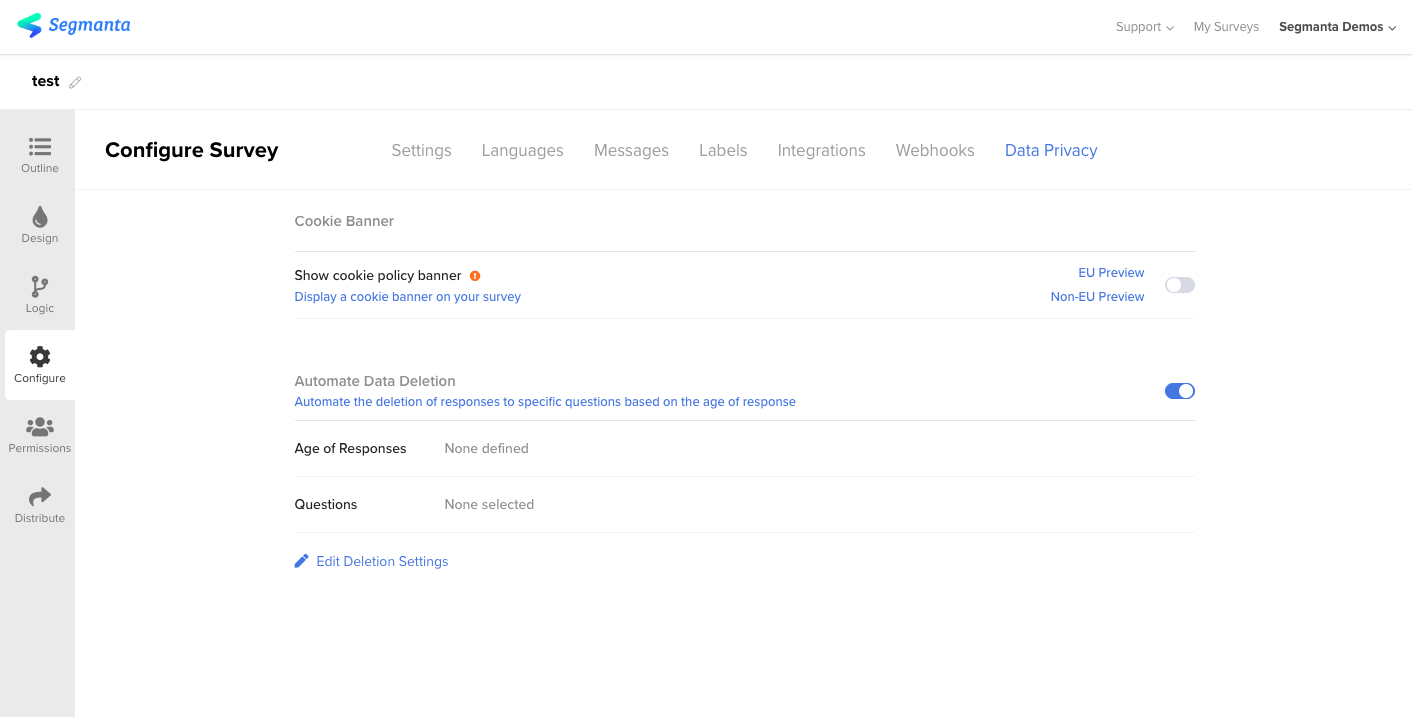 4. Define the relevant settings based on your desired configuration.
Age of Responses: The maximum period of time for which a survey response should be held for the designation questions.
For example: 30 Days. All responses to the designated questions that are 30 days or older will be automatically deleted.
Questions: Responses to the selected questions will be deleted based on the defined age of response. Responses to all other questions will not be deleted.
IMPORTANT
Deleting responses is a critical action that cannot be undone. Please ensure that you will never need to access these responses in the future before enabling automated data deletion.
Every Sunday, an email notifying your account admin of all responses scheduled for deletion in the upcoming week will be sent. Please note, if you set up Automated Deletion on Monday, January 2nd and responses will meet the age of deletion on Wednesday, January 3rd you will not receive an email notifying that these responses are scheduled for deletion.
Currently, automated deletion can only be defined for Contact Form or Akamai Registration fields.