Create, score, and edit a Graded Quiz
A Graded Quiz gives respondents a score based on the number of questions answered correctly or the number of points they accumulate.
What is your skincare IQ?
Are you actually smarter than a fifth grader?
How many celebrities can you recognize?
There are two ways you can choose to have the quiz graded:
Trivia: Quiz answer will be marked as "Correct" or "Incorrect". Click here to review a survey grades answers using the point system.
Points: Quiz answers will be graded using a point system. Click here to preview a survey which grades answers using the trivia system.
Expert Tip! To give your respondents more time to review the correct and incorrect responses after submission, adjust the Question Feedback Delay setting.

To learn how to build a Graded Quiz, follow the step-by-step instructions below:
1. Go to the Survey Editor and click on Logic.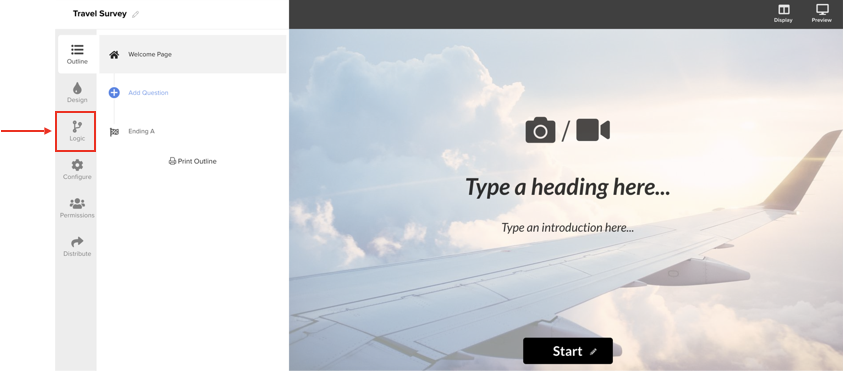 2. Select Graded Quiz to apply this quiz type your survey.

3. Decide how you want the quiz to be graded by marking which answers are correct or how many points each answer is worth.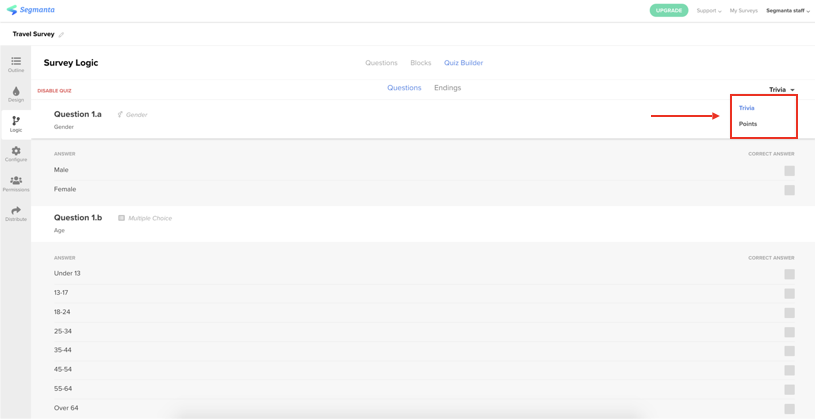 Creating Ending Pages and Assigning Outcomes
An Ending Page indicates the outcome for each respondent's results based off of their answer selections. By default, Segmanta provides your survey with its first ending page.
Changes to outcomes or Ending pages made in the Quiz Builder will be reflected on the Survey Editor and vice versa. Meaning that when you add outcomes in the Quiz Builder, the ending pages will appear automatically in the Outline tab on the Survey Editor.
If you would like to assign different endings based on their final scores, you will need to create new ending pages from the Survey Editor. When you are ready to learn how to display your respondent's quiz scores on the ending pages, click here.
To learn how to create ending pages, follow the steps below:
1. Go to the Quiz Builder and select on Graded Quiz.


2. Navigate to the Survey Editor and create a new Ending Page.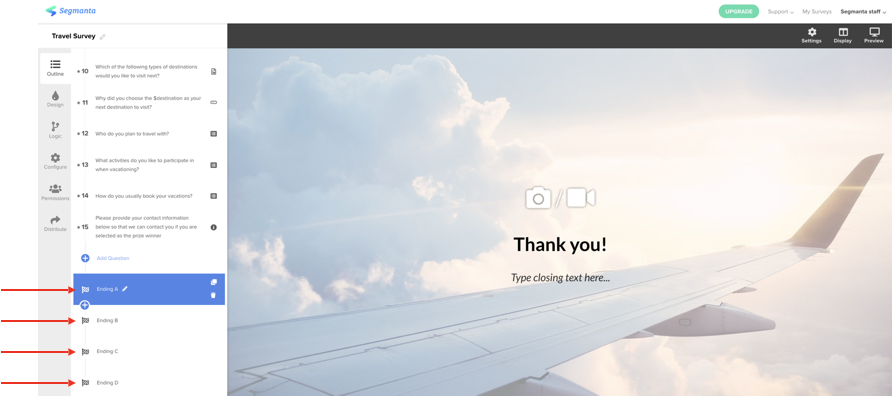 3. Return to the Quiz Builder and navigate to the Endings Tab.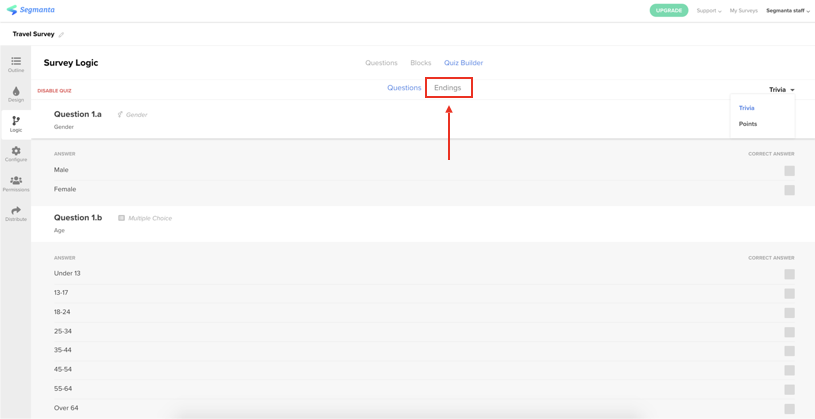 4. Adjust the Score Ranges for each ending page by clicking anywhere on the slider. Enable the slider to turn an ending page on.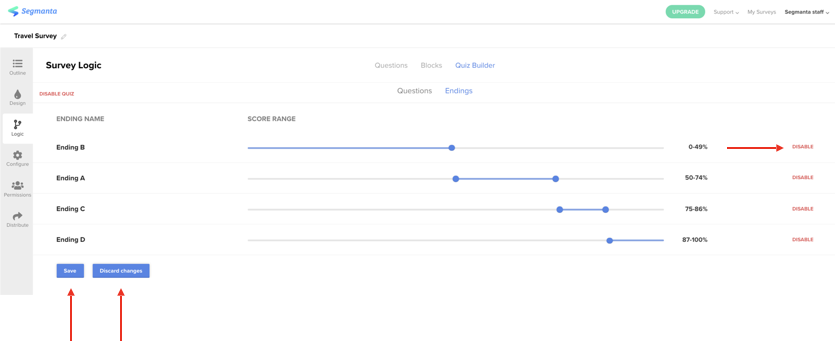 Expert Tips!
Rearrange the ending pages by mousing over the title of the ending page and dragging them to match your desired order.
Always make sure to save your changes.

5. Return to the Questions tab and start assigning outcomes to one or more answer choices.

Please note:
Choosing not to assign an outcome to an answer choice simply means those answer choices will not influence the final outcome of the respondent's survey.
If you choose to disable your quiz, your ending pages for your quiz will still appear in the Survey Editor.

To learn how to build an outcome quiz, click here .