Follow these steps to connect your Salesforce organization to your Segmanta account
Before you can integrate a Segmanta survey with your Salesforce database, you will need to connect your Salesforce instance with your Segmanta account.
To connect your Salesforce organization with your account, follow the steps below:
Salesforce integration is an enterprise level feature. Contact us for more information.
1. Navigate to your Account Settings.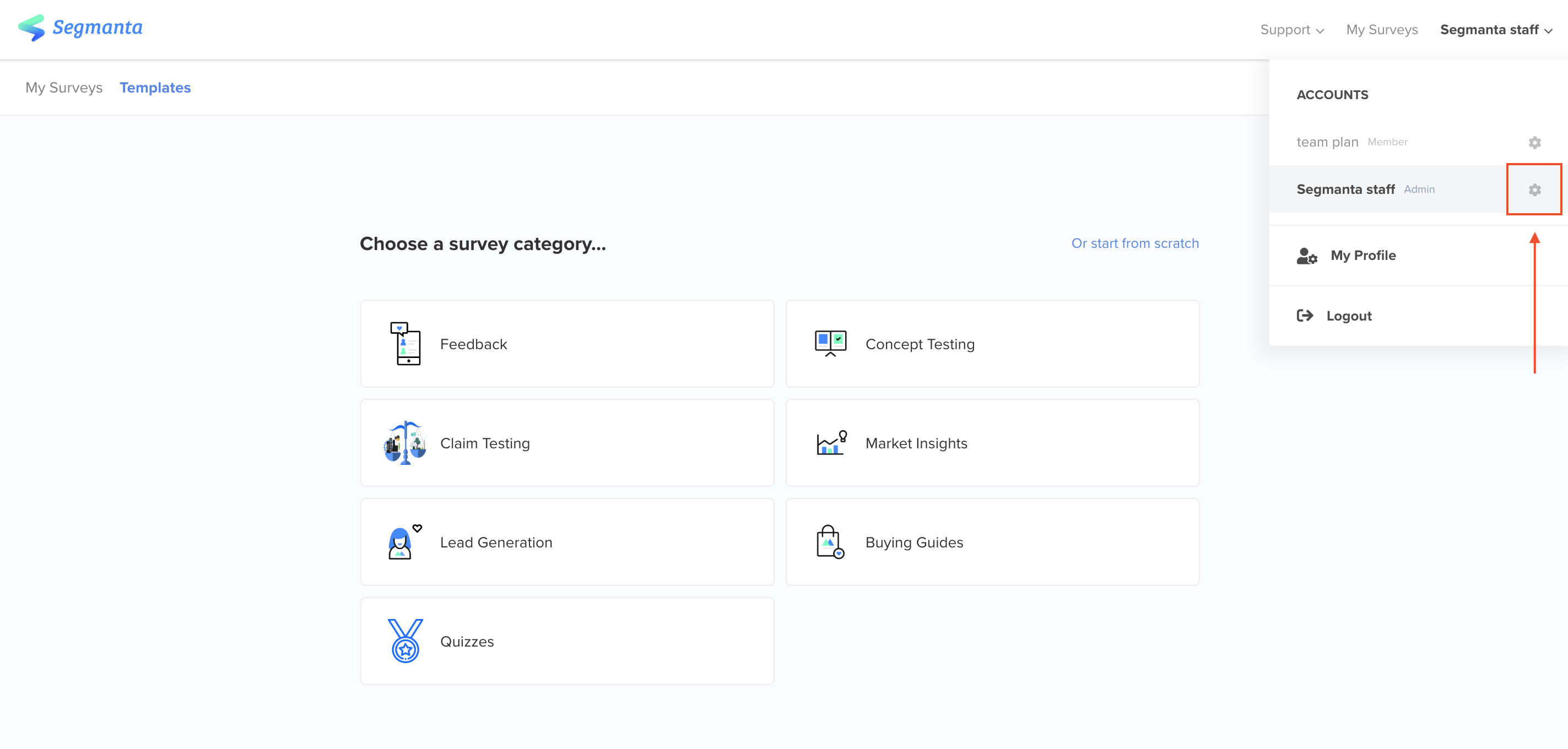 2. Click the Salesforce tab on the top menu.
3. Click the + Connect button to the right of the Salesforce Integration item.
3. A Salesforce sign-in dialog will appear requesting you to input your Salesforce account credentials. This is the Salesforce OAuth Consent screen. Click "Allow", enter your credentials and click Log In.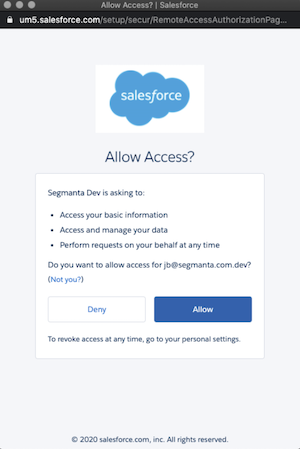 Note: Segmanta does not and at no point will have access to your Salesforce account credentials.

After successfully logging in, your Segmanta account will now be authorized in your Salesforce organization, allowing you to send survey data to Salesforce.
Adding additional organizations to your Segmanta account
To add additional Salesforce organizations to your Segmanta account, visit your Account Settings and click + Connect and follow the steps above.
Disconnecting your Salesforce organization from Segmanta
To disconnect your Salesforce organization from Segmanta. Visit your Account Settings and click Disconnect next to the organization you would like to disconnect. Please note, this action cannot be undone and will render all previously created Salesforce integrations associated with the organization disabled.
Note: The Salesforce integration uses OAuth2, an open standard for Identity and Access Management (IAM), to create a three-way trust between Salesforce, Segmanta, and the user who authorized Segmanta to communicate with Salesforce. You can read more about application authorization here - Authorize Apps with OAuth. Because of this, if the user who connected the Segmanta Application to your Salesforce Organization is deleted or write access to that user is changed, your integration will stop working and you will be notified.
Reconnect the Salesforce Organization with a new user to resume delivery of data; during the time it is disconnected no data will be sent to Salesforce, and it will not be retried when the connection resumes. To update records in Salesforce a manual import to Salesforce should be made; please consult with your Salesforce Administrators on how to bulk import records.
Learn how to set up a Salesforce survey integration.