Adjust your survey's background image, color scheme, and font style
The Custom tab under the design menu allows you to view and adjust various settings including your survey's background image, color scheme, and font style so that you can give your survey a unique look and feel that matches your brand.
Custom settings are separated into two tabs: Background and Content.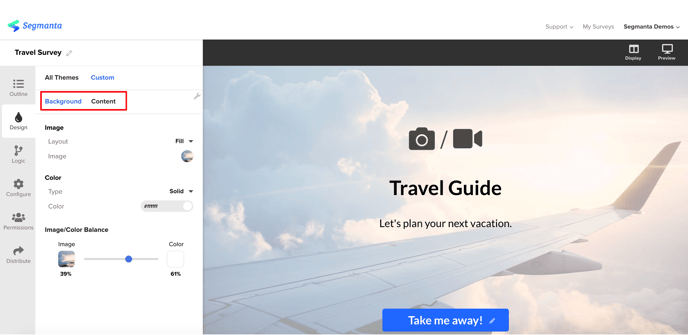 Background
Image
Layout. Allows you to decide the layout for your background image.

1. Fill the entire background area.

2. Tiled multiple times across the survey (depending on the image's size).

3. Centered on the survey page

4. Stretched to Fit the screen.
Image. Upload an image to be used as your survey background.
Expert Tip! Preview your survey to see how the background image displays on different devices.
Color
Type. Choose between single solid color or a 2 color gradient.
Color. Select a color that will act as the layer between your background and the content. You can adjust the color's opacity (how transparent or solid it appears) to help your text and media stand out more clearly. Depending on the color you choose.
Expert Tip! Bright colors that contrast well with your Base Color usually work best.
Image/Color Balance
Use this feature to increase or decrease the transparency level of your survey's background color. The opacity level will be displayed in a percentage format.
Expert Tip! On background images with distracting shapes or patterns, a more opaque (solid) background color will make your content easier to read.
Content
Base Color. The base color is the color of your survey's font, rating scales, answer choices, image/video upload, and the underline on open-ended questions throughout the survey.
Accent Color. The overlay color is the color of the 'Start' and 'Submit' and 'Add answer choice' buttons and your survey's progress bars.
Font Family. Select from a variety of font styles available.
Buttons Style. Choose between square or round shaped buttons.

Learn how to increase or decrease your background's transparency level.