Question and Survey Page Settings
Customizing Font Color and Size on Survey Content Pages
Learn how to further customize your survey's welcome, info, and ending pages with different font sizes and colors
Now that we have learned how to design your survey's overall theme, including changing the survey font color, learn how to further customize content pages with using the Formatting Toolbar.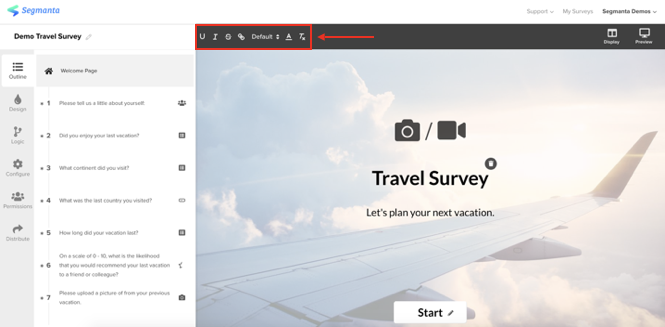 Certain pages and fields allow you to adjust the font size and font color. The page types and fields that allow these font customizations are:
Welcome Page. Heading & intro text
Info Pages. Middle text
Ending Pages. Heading & closing text
Within the fields listed above, you can format the font by selecting text with your cursor and navigating to the top toolbar to select the settings you would like to implement.

Please note: If you change your survey's theme or base color, the customizations you have made to the pages listed above will remain unchanged.

Learn how to further customize your survey design .