Create, design, and add multiple ending pages
The Ending Page of the survey is used to indicate to the respondent that they have completed the survey. It can also be used to display outcomes for certain types of quizzes.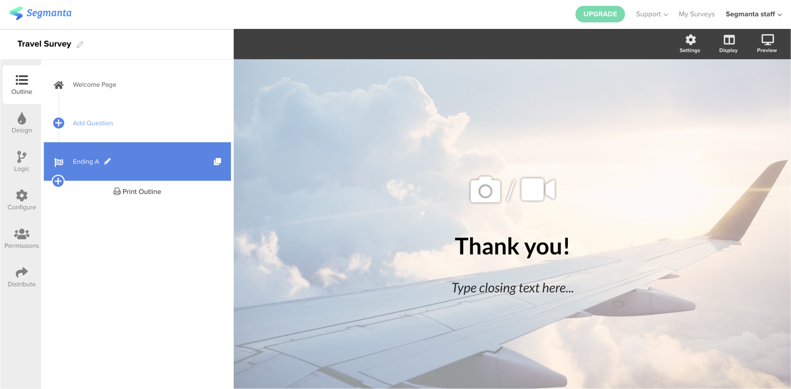 Navigate to your survey's ending page on the Survey Editor to perform the following actions:
Edit. Insert or change the survey content by directly typing into the Survey Editor or clicking on the pencil icon to change the ending page's title.
Add. Create a new or multiple ending pages by clicking on the + icon.
Duplicate. Copy the same ending page by clicking on the duplicate button.
Delete. Remove an ending page by clicking on the trashcan icon
You can edit the following fields in the Ending Page:
Heading. Start by thanking respondents for their time and participation. The heading text defaults to "Thank you!", but feel free to use a variation of this or something else. You can also further customize font colors and sizes in this field.
Closing text. In a few sentences, thank respondents, encourage them to share the survey (if appropriate), and set expectations for follow up (correspondence, delivery of prizes, etc.). You can also further customize font colors and sizes in this field.
Image/video. If you included your brand's logo on the Welcome Page, placing it here can make the design feel consistent.
Link button. Add a button that links to an external URL, such as your brand's website.
Bottom message. Messaging that goes below the link button.
Facebook/Whatsapp/Twitter/Email share. Add social media share links to encourage organic distribution of your survey. Respondents are most likely to share a survey when it is fun to take or offers an incentive.
Use the Formatting Toolbar to further customize the ending page's heading and closing text by adjusting the font's size, color and other formatting settings. To view the formatting toolbar, select the text with your cursor and navigating to the top toolbar to select the settings you would like to implement.
Read an overview of Segmanta's Survey Editor .