Label survey questions and answers to enable seamless personalization at scale
The Facebook Custom Audience Generator allows you to bolster your marketing and seamlessly implement personalization at scale with custom audiences and lookalike seeds created based on survey responses.
With this integration, you can send labeled question responses to Facebook so that you can easily create custom audiences based on how respondents answered your survey.
To set up a Facebook Custom Audience Generator integration, navigate to the integrations tab in your survey and follow the steps below
Click + Add on the Facebook Custom Audience Generator integration.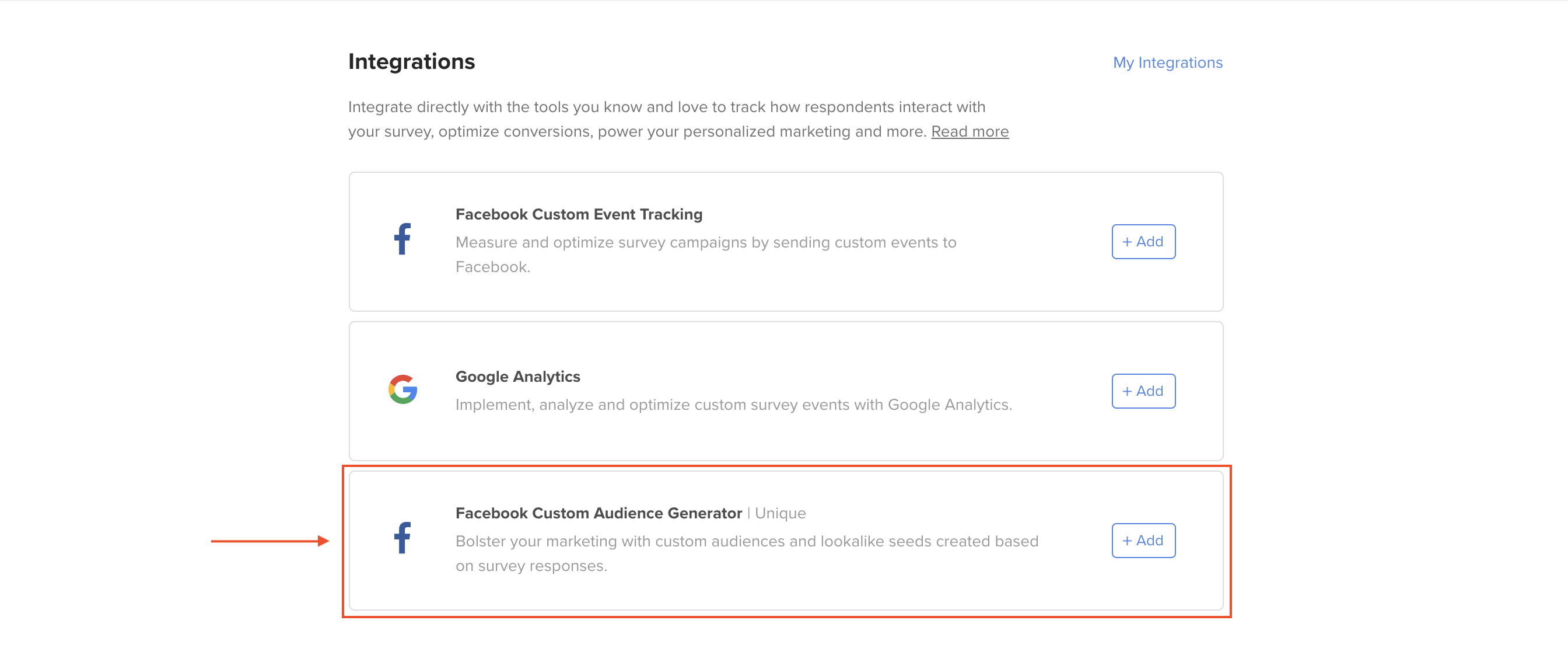 2. Fill out the following information:
Name your event. This is the first step in allowing you to locate this data on Facebook. Make sure to use a name that will help you to easily identify the action.
Add your Facebook Pixel ID to the integration. If you have an account level Facebook pixel it will automatically be added to your integration.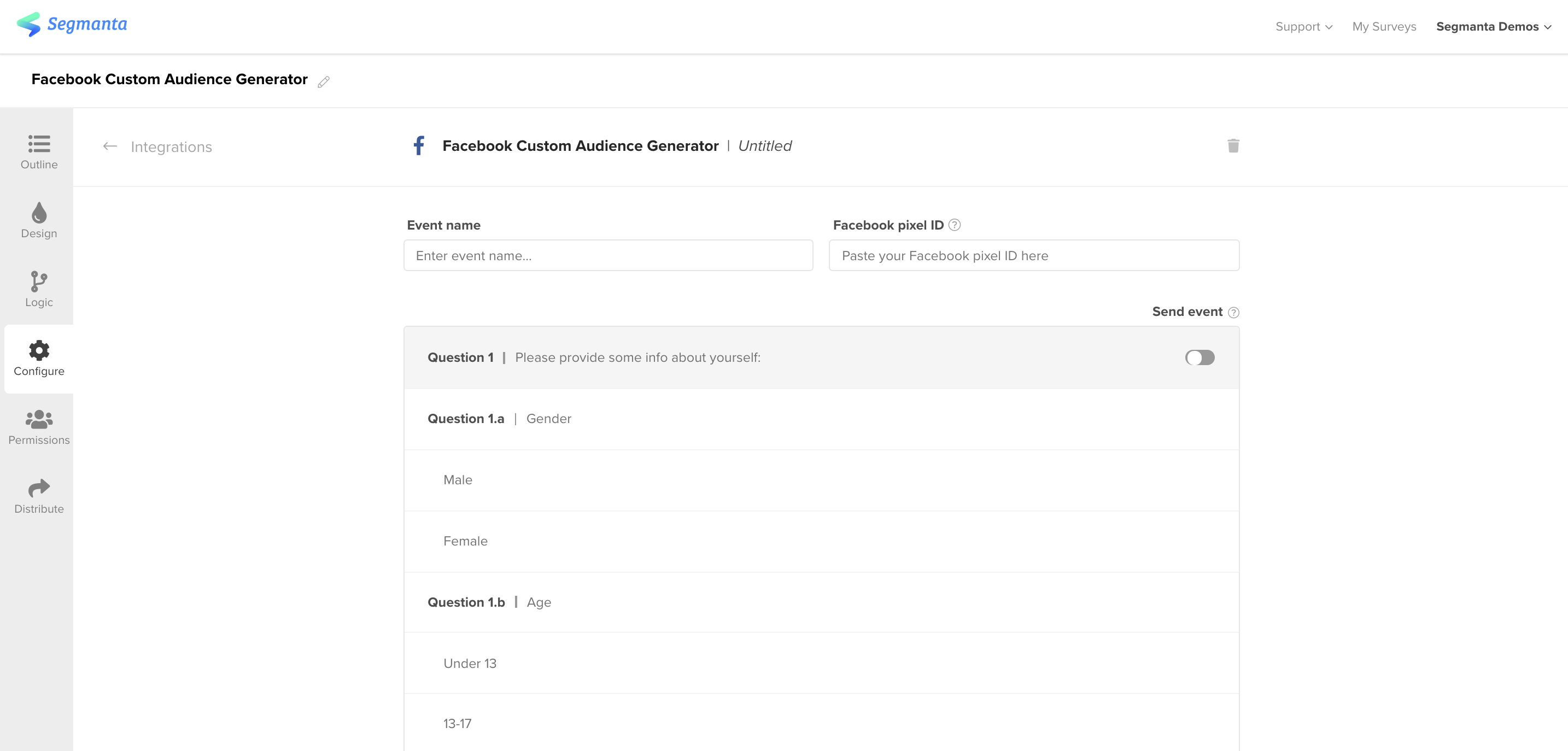 3. Toggle the question you would like to send to Facebook.
You will then be asked to label the question pages and answers that you want sent to Facebook. These labels will be used to refine your custom audience based off respondents' survey responses.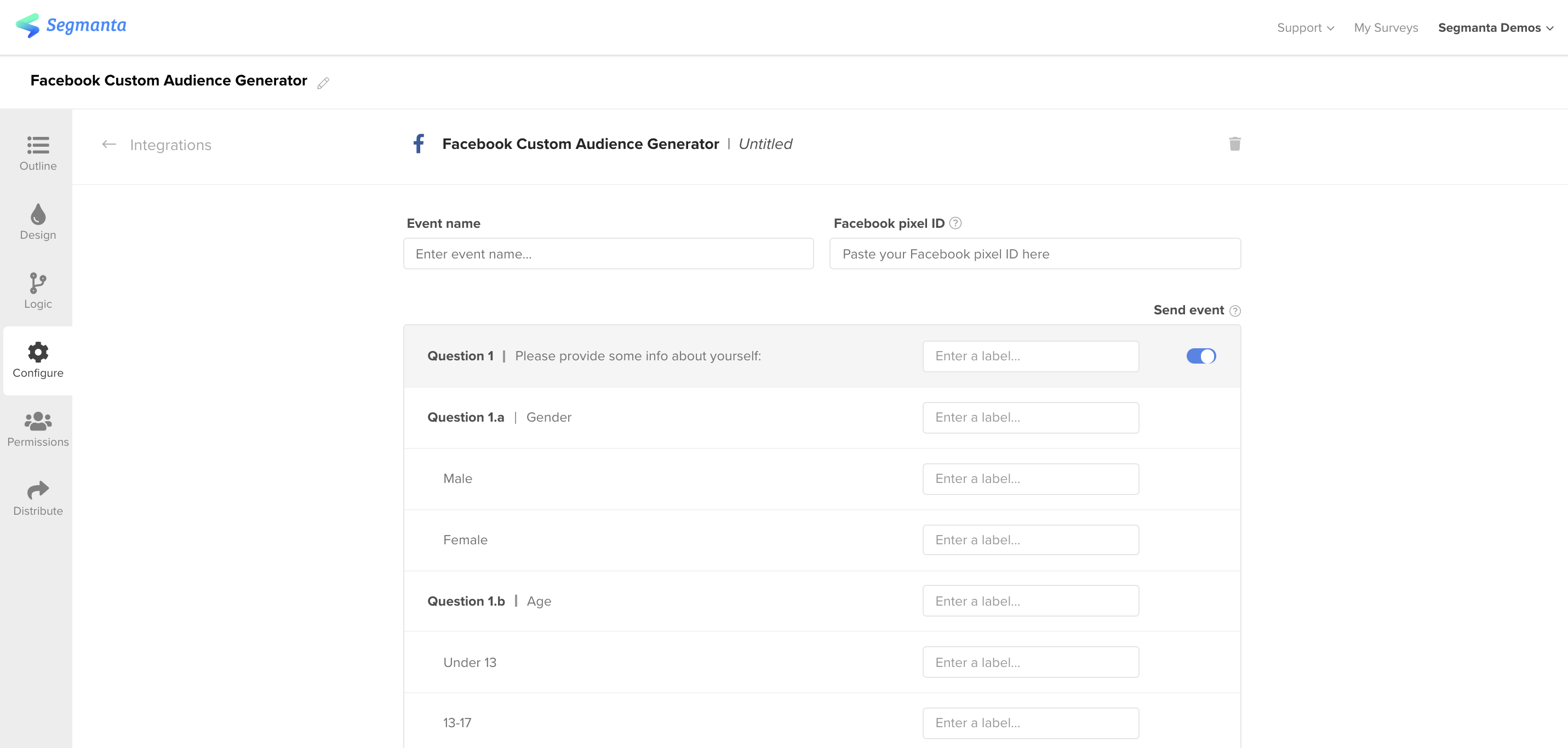 Expert Tips!
You don't need to label every page and answer. Only label the data that you would like sent to Facebook, however, be sure to label everything that is or might be relevant for you to have on Facebook. If a question, subject or answer choice is not labeled, you will not have what you need to locate the data in Facebook to create an audience based on.
Only information that is toggled on will be sent to Facebook. You will not be able to retroactively toggle data.
After you have completed the steps above, test your survey using the Facebook Pixel Helper available on Google Chrome to ensure that the data that you want is sending as you expect it to.
Open ended questions and contact form fields cannot be labeled. If you would like to pass an event to Facebook to indicate that someone has filled in this data use the Facebook Custom Event integration.
Please note: The custom audience generator integration is limited to one integration per survey.
Warning! If you add your Facebook Pixel ID to a survey, you are responsible for the data collected by Facebook. Passing PII data such as name or email address breaches Facebook's Terms of Service.
Learn how to create custom audiences using the data you pass to Facebook with this integration.