Labels
Labeling question pages, survey questions, and answer choices.
Labels can be a word/words that are used as a recognizable label for survey pages, questions, and answer choices. Setting a label for any of those elements allows you to easily recognize the data that has been collected and passed outside of Segmanta with an external integration.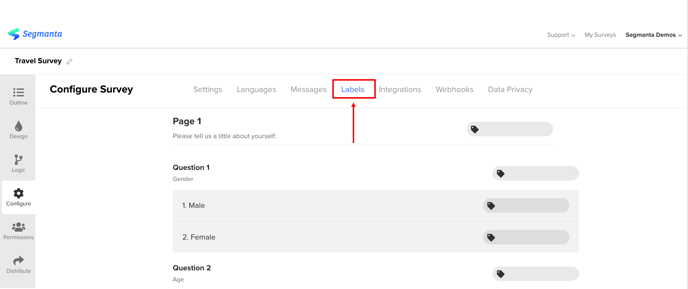 Creating a label is useful when you want to perform the following actions:
Easily reference the question or answer choice when your survey has been integrated with a social media platform such as Facebook.
Integrate with other databases such as CRM.
Labels also make it possible to pipe survey text, meaning that you can carry the select answer choice text from one question into the text of a follow-up question.

Expert Tip! Labels should be as simple as possible, and should not include any spaces. If you use multiple words, we recommend making them legible by using an underscore: " _ ".
To add labels to any of the elements of your survey, visit the Labels tab under the Configure menu.
Learn how to send survey data to your database using webhooks.