Adjust your survey's page displays
Page Display Options allow you to adjust the way a question or survey page displays in the Survey Editor using the Display menu on the upper right side of your page.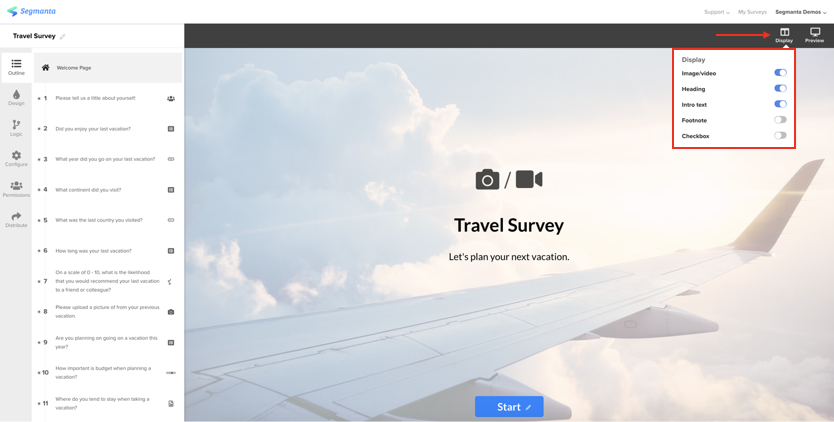 In the drop-down menu, you can add or remove different sections depending on the question or page you are viewing, as each of the different pages contains different display settings:
Intro Text. In 2-3 sentences, let respondents know what to expect: why they should answer your survey and how long it should take them (ideally, not long!) If more detailed messaging is necessary, we recommend sending an email or referencing/linking to an external page.
Heading. Either insert your survey title here or on the top left corner to greet respondents in a creative, engaging way
Subtitle. Smaller-sized text that appears just below the main question heading. Often, this section is used to clarify the question (specify the number of answer choices allowed, note how detailed an open-ended answer should be, etc.).
Middle text. Text that appears in the middle of the survey question. This display option is only shown under the display settings on an Info Page.
Footnote. Smaller-sized text that appears at the bottom of the question, below the answer choices. This is a good place to clarify something that is not critical for respondents to read in order to understand the question, such as a disclaimer. An asterisk (*) in the main heading can be useful to draw respondents' attention to the footnote.
Image/Video. An area to upload an image or video. Add a subtitle underneath and or choose how you would like to position the video above or under the page title.
Media Subtitle. Smaller-sized text that appears below an image or video. Use this either to caption the media or ask a question/give instructions just above the answer choices.
Media Position. Choose whether the image/video appears above or below the main question heading.
Checkbox. Include a Checkbox if you'd like your respondents to check off a certain text before moving on with the survey. This setting is frequently used to ask respondents to agree to the terms and conditions of a survey.
Answers Layout. Select if you would like your answer choices to be displayed vertically or horizontally. This setting only displays on the survey's demographics question.
Learn more about building your survey.