Learn how to customize your survey content using Custom Fields
Now that we have learned the basics of URL Parameters and how to pass them into your survey via the survey URL or an embedded survey, find out how to personalize your survey content using this information.
Personalizing your survey content will allow you to:
Engage your users
Increase survey response rates
Make your survey questions highly relevant to a respondent
Please note: You can pipe custom fields onto your survey's Welcome Page, Ending Page, or in a question page's Question Content (you cannot place custom fields into answer choices).
1. Define Your Parameter/s
Decide what parameters you want to pass
What you would like to name the Parameter. Parameters can be named anything, except for a few parameters that are reserved such as $lang (used for multi-language surveys).
Parameters must be encoded using an equivalent of the encodeURIComponent
2. Add the Parameter to a Survey Page
1. Copy the below text:
$url_param[parameter]
2. Paste the above text where you want the parameter to appear.

A custom field can be placed anywhere on your survey's Welcome Page, Ending Page or in a question page's Question Content.

3. Replace the word "parameter" with the parameter you have chosen.
3. Set Up Survey URL and Test the Survey
Set up your URL using the custom fields you have defined above (and any other custom fields you'd like to include).
Then, test the survey using the URL you set up and an example value/s by taking the survey in an incognito window.
Example
You want to display your customer John Doe's first and last name in the survey's welcome page.
1. Go to the survey editor and click on the Welcome Page. Type "$url_param[first_name]!" into the text field.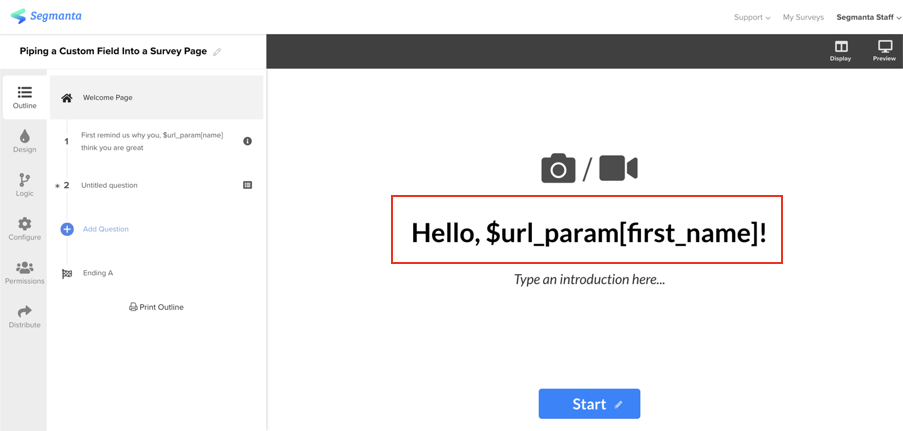 2. Create your survey link using the parameters you decided to insert into the survey.
Jeff's survey link would look like this:
https://surveys.segnamta.com/81e7ax?first_name=Jeff&last_name=Bezos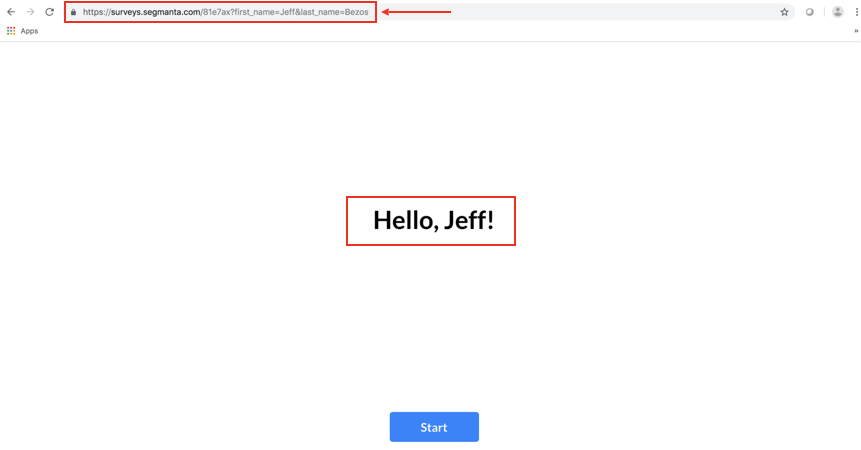 3. Test the survey link.

Now, when Jeff clicks the survey link, this is how the Welcome Page will appear to him: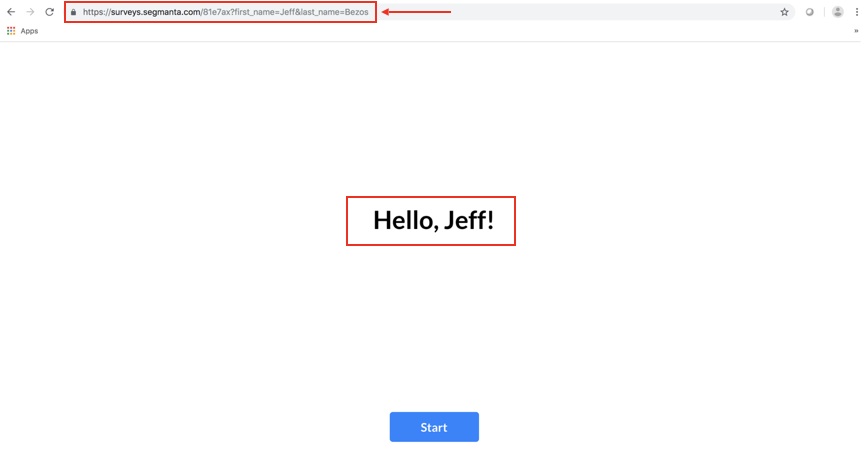 Now that you know how to personalize your survey using custom fields, learn how to analyze your survey based on custom fields.