Follow these steps to configure a Salesforce integration for an individual survey
Now that you understand the basics of a Salesforce / Segmanta integration and have connected your Segmanta account with your Salesforce organization, let's learn how to configure data mapping of survey responses to your Salesforce instance.
Before getting started
In order to use "Update" or "Update or Create", you must pass through a Custom URL Parameter. Before you can configure an identifier (as detailed below) you must define a URL Parameter for the survey.
To define URL parameters for a survey, follow the below steps:
Enter the "Distribute" settings
On the "Link" section, under "URL Parameters", add the Parameter name that you would like to use as your Record Identifier. For example, if you'd like to use the "seg_erid" parameter, enter seg_erid into the input field.
Follow the steps below to map survey data sources to your Salesforce organization
1. Visit the survey whose data you would like to integrate with your Salesforce organization.
2. Under Configure > Integrations find the Salesforce integration.
3. Click + Add to select the Salesforce Organization you'd like to add for this integration (Note: If you have a greyed out option, either the Salesforce integration is not available on your plan or it needs to be enabled for your organization - please contact support@segmanta.com or your dedicated Customer Success Representative).
If you have not yet connected a Salesforce organization to your account, you will be prompted to visit your Account Settings in order to do so.
4. Name your integration for easy reference (Note: this will is useful for referencing your integration in your survey's integration list - this information is not sent to Salesforce).
5. Select the Salesforce Object to which you would like to send the data. You can choose any Salesforce object, custom or native, that you wish to send data to as long as the connecting user has access to these objects in Salesforce.
6. Select the Action mode of writing data to Salesforce from the three provided options
Create - Will always append a new record to the object
Update - Will attempt to update an existing record
Create or Update - Will attempt to update an existing record. If the record does not exist, will append a new record to the object.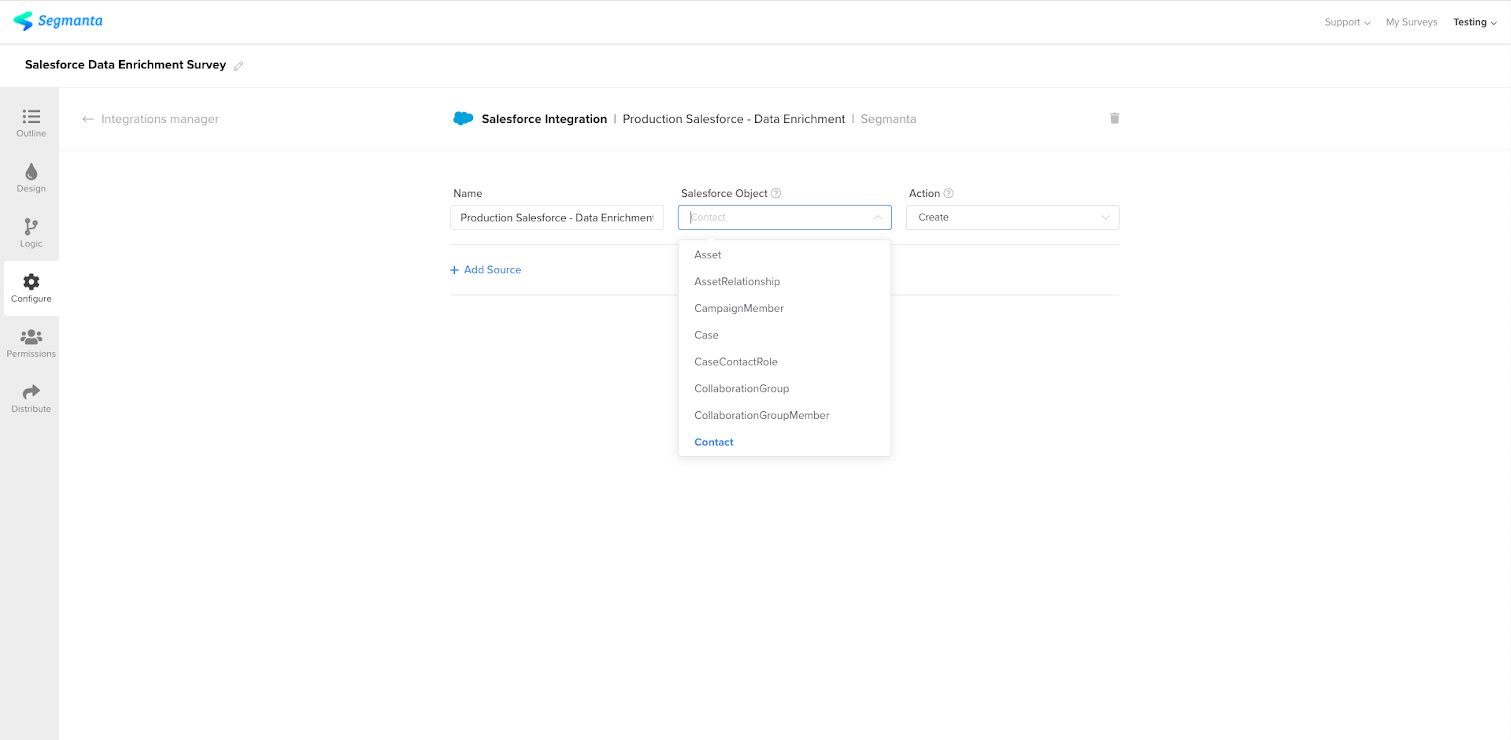 7. If Update or Update or Create are chosen for the mode, you'll be prompted to ensure you've set an identifier for the respondent, which can be any data linking the respondent to a survey, such as:
Custom URL Parameters (such as seg_erid) for denoting an external respondent ID from your source system, such as the Salesforce Record ID
Any answer to a question, such as an email address added to a contact form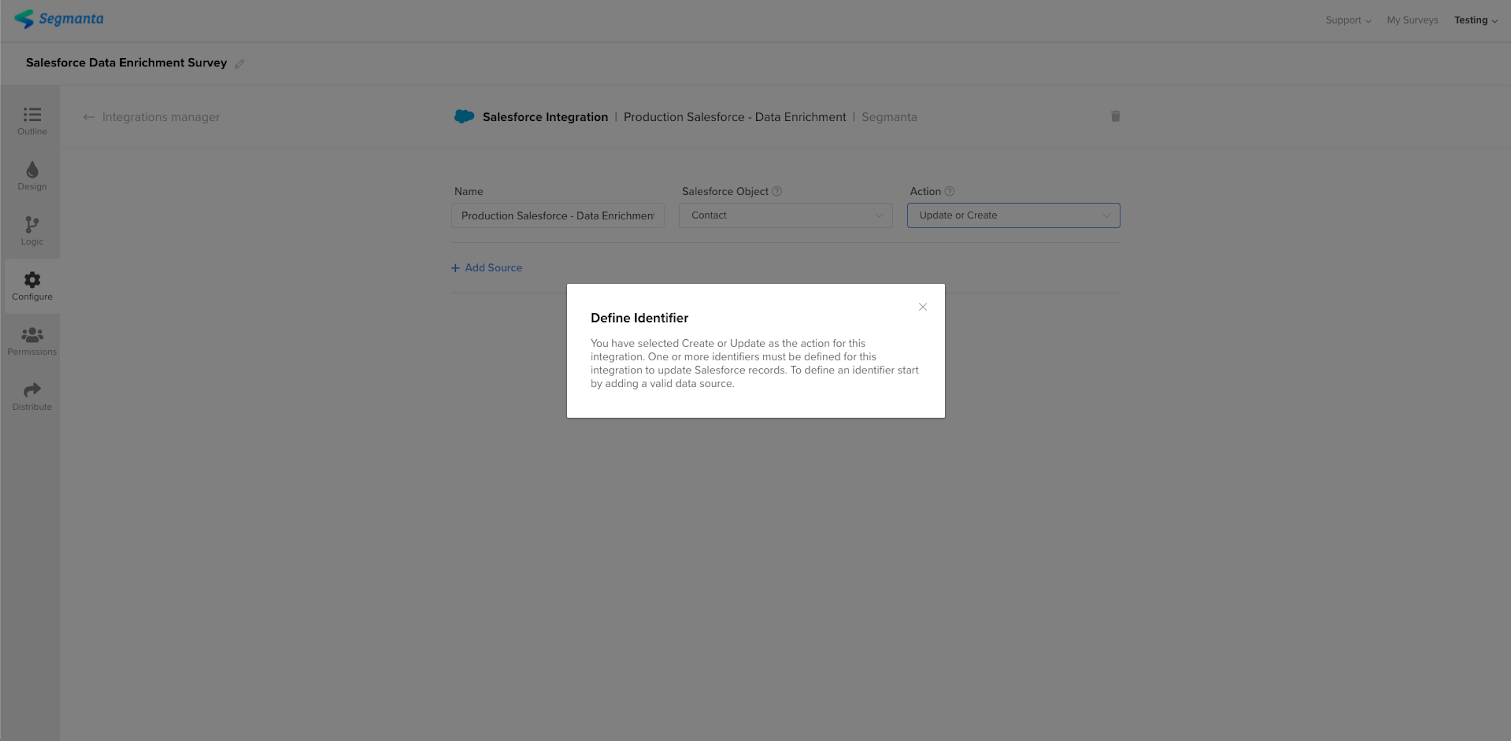 You must select an identifier whenever wanting to Update or Update or Create data on Salesforce and you will be prompted to remember if it is not done.
8. Label your responses, and map them to the appropriate Salesforce fields. All question types in Segmanta are supported, other than an Image upload question.
The Source Type can consist of:
a Survey Question
any Fixed Value you can define
the Survey Taken Time signifying the date/time that the survey was taken
a Generated ID Segmanta created for a survey, respondent or response
a Custom Parameter you've passed as a URL parameter into your survey
Note: If you have a survey which allows respondents to retake, resume, or go back between questions, it's recommended to use the Create or Update mode. If you do not send a seg_erid parameter to identify the respondent, you can use Segmanta's Generated ID Source Type particularly the "Response ID", and map to a field in the Salesforce object for deduplication; set this as an "Identifier".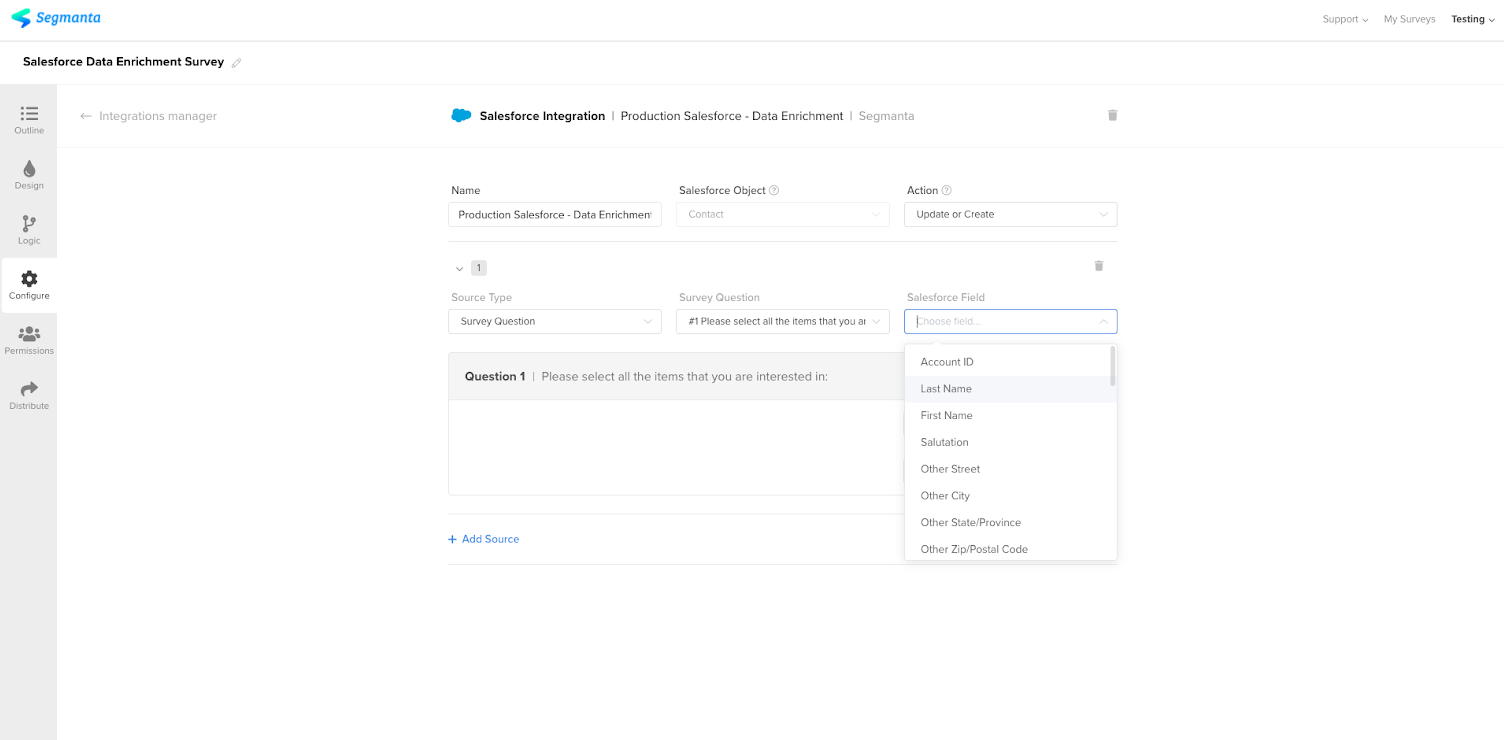 Note: Once response labels and sources have been set for an integration, you cannot change the Object. To change Object, remove the field mappings using the "Delete" icon on the question, or delete the integration.
9. Your integration will automatically be saved and new responses will now be written to Salesforce.
Note: If you wish to change the Salesforce Organization where the data is being sent for a particular integration, you will need to delete the integration and recreate a new one with the new organization as the destination. The ordering of disabling/removing the old integration can be before (no new data will be sent in the delta) or after, meaning that both organizations will receive new data for a duration.
Additional setup for "Update" and "Update or Create" settings
In order for the Segmanta - Salesforce integration to identify which record to update, a record identifier is required to be configured.
Segmanta will attempt to find a record in the selected object against the "Identifier" field which has been configured.
After following the "Before you begin" steps at the top of this article, follow the steps below to configure the Identifier field:
Click "+ Add Source"
Select "Custom Parameter" from the dropdown.
Select the name of the URL Parameter you want to use for the identifier
Select the Object Salesforce Field which Segmanta will attempt to map the custom parameter value to for the purposes of updating the field.
Check the box "Identifier" to let Segmanta know that this field should be used for lookups.

Note: If Segmanta is unable to identify the appropriate record to update, it will create a new one if the selected update option is "Updated or Create". If this is not the behaviour you would like, make sure to select only "Update".