Learn how to set up and test a webhook
Now that we understand the basics of Webhooks, let's go over how to set up a Webhook.
When setting up a Webhook, you will need to define a few configuration items:
Name. Create a name for your Webhook.
URL (Where to send the data). Copy and paste a URL link into the text field where you would like the survey data to be sent to.
Event (When to send the data). Select if you would like to send the data on survey completion or on question completion. If you select question completion as the webhook event you will need to define upon completion of which question you would like the Webhook to activate (or upon completion of all questions).
Active. Decide if you would like to activate the Webhook.
Testing the Webhook
After you have set up and activated your Webhook, you can test it by performing the event you have defined in the Webhook's configuration. Once you have performed the event action, you can check the activations on the Webhooks tab.
Expert Tip! Click on the number of activations in order to view more information about each activation including the Webhook data delivered and whether the action succeeded or failed.
To add a Webhook, follow the steps below:
1. Go to the Survey Editor and click on Configure.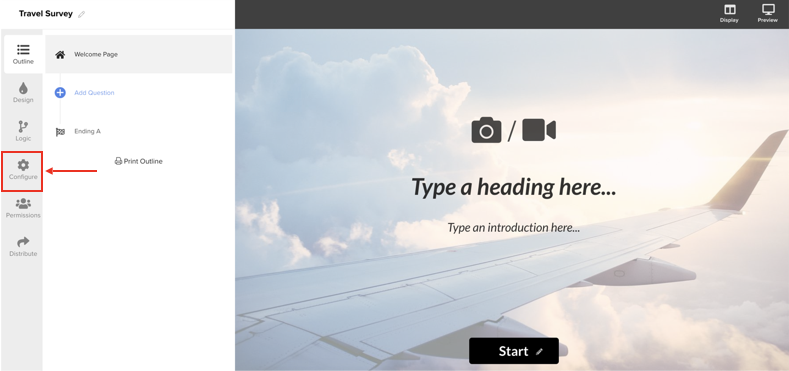 2. Navigate to the Webhooks tab and click on + Add Hook.


3. Define the Parameters.


Review the structure of Webhook delivery content.