Survey Logic
Implement survey logic to personalize your respondent's survey experience
Survey Logic provides a personalized experience for respondents taking your survey. To implement survey logic, simply navigate to the Survey Editor and click on Logic.
Segmanta offers three survey logic tools:
Questions. Apply one of the Segmanta's three logic rules to a survey question to ensure your survey flows efficiently.
Blocks. Implement survey logic to a set of questions by grouping them together into question blocks.
Quiz Builder. Convert your survey into an interactive and engaging personality quiz, trivia game or customized buying guide.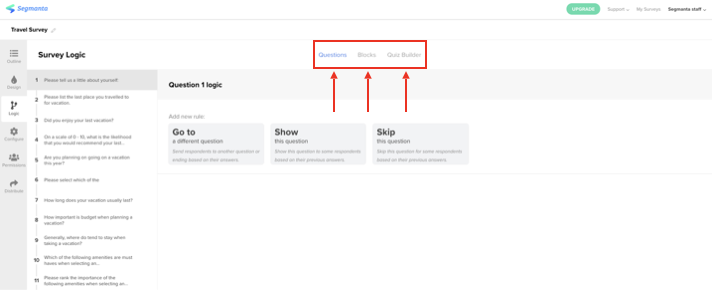 Expert Tip! The logic icon will appear on the survey outline if a survey question has logic applied to it.


Learn more about Segmanta's three survey logic rules .