Adjust the survey settings in the Configure tab
The Settings tab in the Configure tab includes various survey settings that you can adjust to customize your survey. The settings tab, in particular, contains a number of important settings.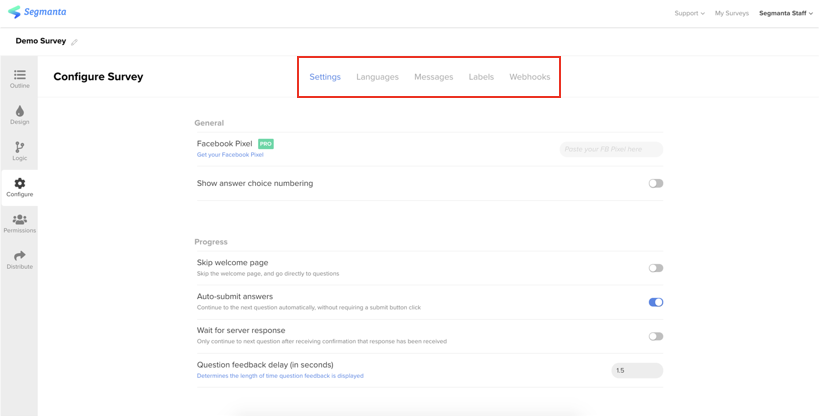 General Settings
Facebook Pixel. An analytics tool that allows you to measure the effectiveness of your advertising by understanding the actions people take on your website.
Show Answer Choice Numbering. Number your answer choices for each survey question's answer selections.
Survey Progress
Skip Welcome Page. Respondents will begin answering questions on your survey immediately without seeing the survey's welcome page.
Auto-Submit Answers. Segmanta surveys are automatically set to auto submit a respondent's answers and load the following page when they have selected the maximum number of allowed answers for a question - turn this off to force respondents to select submit at their own discretion.
Wait for Server Response. This setting will not allow a user to continue in a survey until our servers confirm receiving their answers.
Question Feedback Delay (in seconds). Allows quiz respondents to review the correct/incorrect answers after their answer submission by adjusting the length of the delay.