Create and design a survey's Welcome Page
A survey's Welcome Page introduces respondents to your survey and is a crucial step in encouraging the respondent to begin the survey.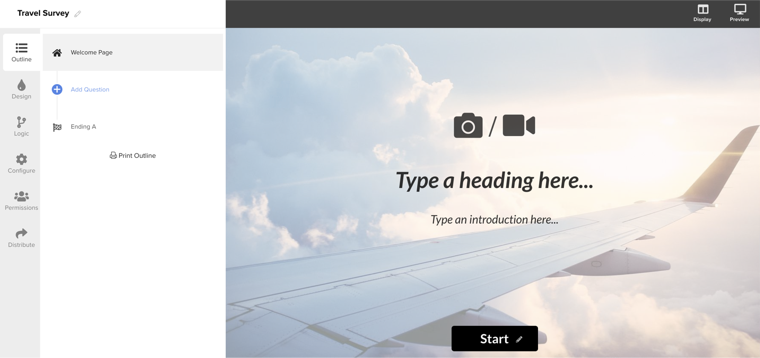 You can edit the following fields in the Welcome Page:
Heading. Either insert your survey title here or on the top left corner to greet respondents in a creative, engaging way. You can also customize font colors and sizes in this field.
Intro text. In 2-3 sentences, let respondents know what to expect: why they should answer your survey and how long it should take them (ideally, not long!) If more detailed messaging is necessary, we recommend sending an email or referencing/linking to an external page. You can also customize font colors and sizes in this field.
Image/video. Design your Welcome Page to be visually engaging so respondents are encouraged to open your survey. This is often a good place for your brand's logo (a small, square or horizontal image with a transparent background).
Start button. Keep in mind that the start button is editable, you can update it based on language, or desired phrasing.
Use the Formatting Toolbar to further customize the welcome page's heading and intro text by adjusting the font's size, color and other formatting settings. To view the formatting toolbar, select the text with your cursor and navigating to the top toolbar to select the settings you would like to implement.

You also have the option to allow survey respondents to Skip the Welcome Page and start the survey immediately.

Learn how to add, delete, and duplicate questions .